Dear Supporters of the Champion Christian School Mission Trip to Mexico,
     We, the CCHS Mission team, wish to thank everyone who helped make our trip to Mexico possible. It was one of the most amazing and life changing experiences we have had. We want to recount just a few of our experiences to give you an idea of some of the activities in which we participated.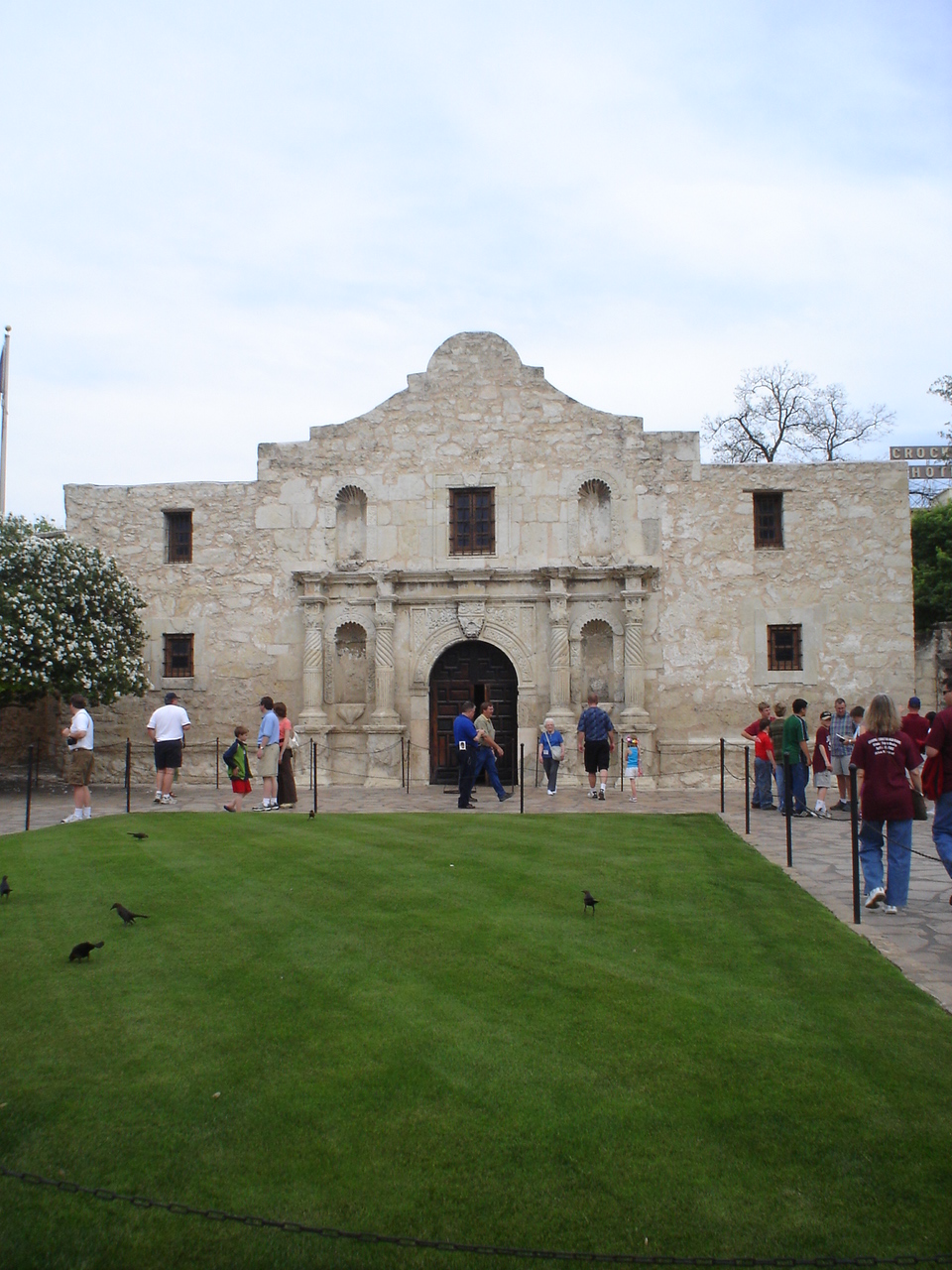 Twenty students and seven adults left Champion Christian School at 4:00 a.m. to travel to the Pittsburgh airport. For some of us, it was our first time flying and we were really nervous. However, we all really enjoyed the flight and the view from the airplane was spectacular! After arriving in hot San Antonio, we visited the Alamo. After all of our history classes and all of the movies that we have seen, it was surprising to find the Alamo not in the middle of a desert, but in the center of a town that reminded us of Pittsburgh. Most of it is no longer there, only a part of the church and a few other buildings, but they have a small model of what the Alamo originally looked like. The best part of the tour was seeing the original doors with actual bullet holes. We were prepared that we were going to Mexico during a time when the border issues were heightened. Can you imagine our surprise when we were walking past the Alamo to go to lunch, and there was a group of protestors there shouting MEXICO!!!? They were a pretty aggressive group, and we passed them without incident and talked about it at lunch. There were lots of feelings that stirred up in us, but it was our first interaction with the passion that the border issues produced. We went on to learn that although there are very real issues surrounding the immigration disputes, many of the Mexicans that we met were very supportive of the US border laws, and that many Mexican people disagree with American Mexicans about the issues. Through this trip, we got a chance to see in person, things that are on the news every night.
     After leaving San Antonio in our beautiful air-conditioned rental vans, we exchanged them in Laredo for what we began to affectionately call our "Ghetto vans" that we would use in Mexico. They were loaned to us and were more suitable for using in the border towns. After being up for 22 hours straight, we finally saw the border around 1:00 in the morning. It was dark outside and while half asleep, we could see the Rio Grande River and the border patrol. Of the three vans in which we were traveling, both the first and the last van got a green light and were allowed to continue into Mexico. However, the middle van got a red light and was pulled over for an inspection. We were told to unload everything in the van, which included all the groceries and luggage. Although somewhat unusual, we were told by Antonio, our guide, that this was a pretty intense inspection. We were glad that we did not have enough room in the smaller vans to bring all of our extra supplies that we had gathered for the trip. (approximately 21 bags of books, paper, crayons, dolls, clothing, etc. for the Mexican people.) While all this was going on, a few of us needed to use the restroom, which was an experience in itself. After figuring out which was the men's and which was the women's, we decided that maybe we did not need to go after all. We learned an important cultural lesson at that time. Most bathrooms don't have toilet seats in Mexico!
     We were now in Mexico at last! We drove for about 20 minutes and got to the church. Since it was now about 2:30 a.m., only the pastor was there to receive us. The place was really poor and ugly, filled with bars, prostitution, and drug related activities. The families that had been waiting to take us to their homes had left and thus we had to sleep on the church floor.
     The best part of the trip was the time we spent working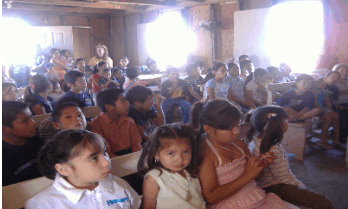 and communicating with the Mexican people. Although we were there for a relatively short time, we got a lot done. We visited an orphanage, worked on a mission church in a development in Nuevo Laredo, and held a vacation Bible school for the children. We were able to dig ditches, make cement, and form rebar at the work site. Your gifts helped to purchase a lot of the building materials. After a long day of work, we headed to an orphanage about half an hour away. When we got there, we were met by a bunch of kids running toward us. They hugged us and talked to us in Spanish. They didn't care that our group didn't speak their language. We understood their language of love. We spent a few hours there and admired the great job the director and his wife were doing with them. We had a short meeting in which they taught us a Spanish song, and we in turn taught them an English one. The director praised us for coming. He said we were very brave because we chose not to listen to the voices of fear, but we listened to the voice of courage. He spent the summer in the US inviting churches to come to Nuevo Laredo, but everyone was afraid to come due to TV news highlighting all the shootings and drug activities in the area. Although we only spent a few hours there, it was hard to say goodbye.
     The first day in the Bible school we had approximately 17 kids, the next day we had over 78...many of whom gave their hearts to the Lord and responded strongly to the time of learning. We also distributed clothes, toys, and candy to the children and their mothers. It was good to have our Spanish teacher there who was a fluent translator! We attended a traditional Mexican church service, which was quite different from what we had expected. The worship was loud, exciting, and joyful. We combined our worship teams and sang in both English and Spanish, which everyone enjoyed. All the while we were bonding with the Mexican people not by speaking, but by singing and praising God together. Our experience was truly a blending of the American and Mexican cultures as only the Lord can do! This particular church had never had a mission team come to help them before. They said that we were their first "gringo" team. By the end, with our broken Español, their broken English attempts and much sign language we were communicating pretty well! Two of our team members were foreign exchange students from South Korea. The Mexicans had never been around Americans let alone Asians! The students were a big hit! Everyone wanted to get their pictures. Our students commented that the kids were fascinated by their blond hair and blue or green eyes. One of the church members said that our team all looked alike!
     While in Mexico we stayed in the homes of some of the families from the church. We were put into groups of three or four plus a chaperone. We were very blessed by how kind and generous the Mexican people were. Every one of them was more than willing to give us anything we wanted. They were so generous that if we even admired something of theirs they would gladly give it to us and would be offended if we refused. Everyone's favorite part of staying with the people was getting to know them. By seeing how our host families lived, all of our ideas about Mexicans were changed. Everyone of us has a great respect for them and would gladly go back and work with them again. Even though it was hard to communicate, we all still formed great relationships. It was evident to us that the Mexicans truly had the love of Jesus when they said, "Mi casa es tu casa." (My house is your house.)
     The following day we went souvenir shopping in downtown Nuevo Laredo. It was good to get out of the area we were in and see other parts of the city. Downtown looked like an American town, with nice houses, high buildings, expensive cars, businesses, offices, churches, restaurants, etc.
     On the last day after the main afternoon service, the ladies of the church prepared a fiesta for us with all of the best authentic Mexican dishes. After eating, we had a time of fellowship. This was one of the most exciting times we had as we spent hours hanging out with their youth group. We played a competitive and exciting game of soccer in the parking lot and sat around talking. It was interesting since we knew very little Spanish and only a few of the Mexicans knew English. Still, we were able to communicate and we all bonded and laughed together as if there was no language barrier. Everyone was having so much fun that Mrs. Brant had a very tough time getting us to separate. The Youth pastor came to our teacher, Mr. Lora, in tears thanking us for coming. She said their youth group was dying but, because of our visit, it was now alive again. Finally we said our tearful goodbyes and went upstairs to get ready to leave. Little did we know but the youth had come to Mr. Lora and asked him if they could serenade us. The adults told us we were having a meeting and imagine our surprise when we heard music and saw the Mexicans parading in!
         There were many important and significant things accomplished on the short trip. This trip made us all realize how really good we have it in the United States. They did not have even the basic things we take for granted and yet they were extremely happy. The people at the church really showed their faith in everything they did. We were challenged in our faith and at the same time they were challenged in their faith by us! At church they shared their testimonies, and we shared ours. We heard how similar and exciting it is for everyone when they meet Christ and grow in Him. The people said we did so much for them that it was as if God sent down angels from heaven to be with them. They described to us that our coming represented Christ leaving His throne in Heaven to come be with them. It's amazing how people that live in such poor conditions are so grateful for so little. It was an awesome feeling to know that we got to help these people, and sad that we might never get to see them again. One of our host families communicated to us with sign language, and a little English, that if we did not see them again on Earth we would surely see each other in Heaven! We were wishing we could have stayed longer. God really placed something amazing in our hearts, and we will always remember our experience in Mexico. Please keep these people in your prayers, especially the youth group. Thank you so much for your generosity that made this trip possible. May God use it for His purpose.
In Christ's Service,
The High School Mission Team at Champion Christian School
Personal Note from D. Merle Skinner, CCS Administrator:
         This letter was a compilation of many student letters. Each one kept a journal to remember all the events and to record their impressions. I cannot tell you how pleased I am with the goals that the Lord accomplished on this trip. In each of the dimensions of cultural awareness, integration of contemporary issues in the context of Christian thought, service and giving, and in terms of spiritual growth this mission trip was in itself a complete success. The kids did a great job, and worked hard to make the trip a wonderful experience for themselves and the Mexican people. Antonio, our guide, did a great job of blending our American and Mexican cultures and allowing God to shine in that environment. Thank you for your support which enabled our group to experience this very rich and distinctly Christian trip. The following is a summary of how your collective gifts were used on this trip:
 
FINANCIAL REPORT
Donations:
$17,424.31
Expenses:
$10,052.36 - Travel
$ 1,240.14 - Food
$ 2,035.74 - Construction and Ministry Gifts
$ 1,100.00 - Gifts to Mexican Mission Team
$ 1,746.07 - Administrative Expenses including postage, shipping, etc
$ 1,250.00 - Special end of Project Gift to Mexican Church
$17,424.31 - TOTAL EXPENSES

*Special Note: We also took 21 large duffle bags of supplies to give to the Mexican church and orphanage. The items were donated by CCS students, parents, and local churches and businesses.