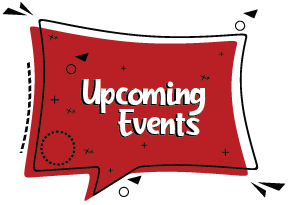 An important community focus for the ministry of the Center is offering activities for community fellowship and education. Our commitment is to help provide different activities and continuing educational opportunities that allow people to grow and develop in ways that build their relationships and their faith. You can find out more about any of these events by clicking on the event link in the calendar below. The Center is a place for everyone!
     For more information about our community outreach events that offer family friendly fun for everyone, be sure to check them out below!
We generally have the following types of events:
Community Information/Education/Continuing Education Events: These events are targeted for everything from Blood Drives, First Aid Training, to Advanced Theological Events. They usually require registration in advance for planning purposes and some are free and some have fees.
Community Fun Nights Such as movie nights, Christian Coffee Houses, Concerts: These are open to the community and are often free, accept donations, or have small cover fees.
55+ Community Events: Lunches, services, and trips that are focused on mature adults.
Community Bus Trips: An important community focus for the ministry of the Center is offering places for everyone to go that will enhance our faith, educate our minds or inspire our souls. Places that point us to the growing in our walk such as Sight and Sound, The Ark and Creation Museum, The Bible Museum, or educationally focused trips to places like Washington D.C. and others.



Connect with us on social media! Or contact us directly via email!