Middle School Student Supply List
2020-2021
You will need to get :
A single subject notebook for each class.
A 3-ring binder.
Pencils. Mechanical pencils are fine.
Bible. Students should have a NIV or New King James version of the Bible for use in school.
Bookcovers for textbooks
Three boxes of tissues to share with the class and hand sanitizer.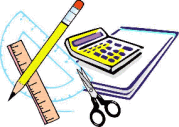 We supply the following, but students may bring their own to use in school:
Markers
Colored pencils.
Art supplies (with exception of special projects.)
Glue
Scissors
Rulers