Bidding Notes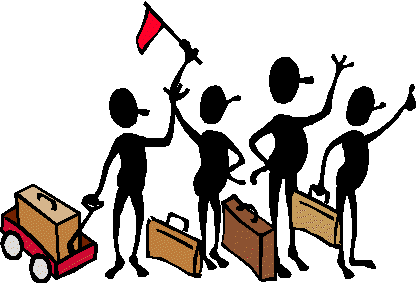 This year, because of the COVID-19 social distancing guidelines, the Center's Charity Auction Benefit will be completely online. If you need assistance bidding, please email us at info@champion.org or call our offices at 724-593-9200. This year's bidding process is below:
1. To make the Center's event successful, please remember it is a Charity Benefit. We want you to give money to provide Christian programs for the family...not just to get a bargain. Bid freely online up to the highest amount you would be willing to pay for an item. Our online bidding process will bid for you in increments of $1 and $5 to assure that you get the best price you can.
2. With the event being online, the bidding audience much larger. Staying out of the process until the end is counter-productive to the event and your likely success. Join the fun by getting in the game early! You might not end up being the highest bidder, but you will help in the process of helping us get a higher value and help the ministry!
4. All payments will be arranged personally in the way you would find the most helpful, so you can be assured it will be safe and secure. Thank you in advance for supporting the Center!
Bidding Directions

1. All bidding is done from the www.champion.org/auctionitems page. The bidding box is found on each item's page, on the left hand side.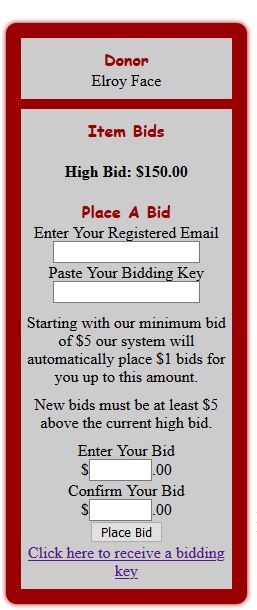 2. Click on the link at the bottom of the box on the link called "Click here to receive a bidding key". You will be asked to put in your email address. You may also start the process here: Click here to receive a bidding key
3. After inputting your email address, you will be asked to complete an information form to obtain a bidding key. All information must be completed. Note: If you have bid online in past years using your current email you will not be asked to complete an identification form. If your information is different, please email that new information to info@champion.org.
4. When you submit that information, a bidding key will be sent to your email address. If you do not receive a bidding key, contact us right away. Some email providers are blocking that email.
5. You will use that bidding key and your email to bid on all items. When you decide how much you want your maximum bid to be on an item, enter it into the "Enter Your Bid" and "Confirm Your Bid" fields and click on "Place Bid". All bids are final. If there is an error, please email us at info@champion.org or call us at 724-593-9200 for additional help.
6. There are several notifications that you might get based on your bid and if there are other bids or minimums on the item:

a. If there is a notification of an error, please contact us to help.
b. If there are no bids or no minimums on the item, your bid will be placed at $5 and raised as others bid higher, up until it reaches your highest bid amount or until someone places a higher maximum bid.
c. If you are outbid on an item, you will not be notified, so check back often and remember the high bid that you entered for each item!
d. If your bid does not meet the minimum bid, your bid will be placed on the item, but you will see 'Minimum bid not yet reached' noted under the high bid. In order to win the item you will need to go higher than the minimum bid.
e. If your bid is not currently the highest bid listed on the item and someone else has a higher bid maximum that has not been reached, your bid will push their bid to $1 higher than yours. You will be notified that your bid was not highest and you can bid again.
7. Helpful hints: Write down or save your key to bid on mulitple items. Write down which items you are bidding on and how much you bid. Remember, bidding closes at midnight on Saturday, May 16th.

Thank you!!

Charity Benefit Committee.